Sample Sound Review is a Music Industry blog featuring virtual instrument reviews, audio plugin news, and posting the latest deals in vst composer tools. If you are a composer, an electronic musician, hobbyist, audio software enthusiast, or music producer, please subscribe to Sample Sound Review.
Monday, September 27, 2021
Friday, October 12, 2018
Introducing Synthetic Strings, an unmatched anthology of modern and vintage string synthesizers. Featuring over 200 presets, and nearly a dozen iconic synths, delivered in playable, rhythmic, and loop formats.

And NOW, Synthetic Strings is available for just $119 (20% off the MSRP).
Learn more at Heavyocity
Tuesday, April 10, 2018
Epic Sample Library Bundle - Over 52GB+ of percussion, sound design , choir, FX, synths & more included!
6 products in the bundle – €1112 worth of content
Up to 82% off EACH product, or buy the full bundle and save €913!

Over 52GB+ of percussion, sound design, choir, FX, synths and more included!

Perfect for trailer music, cinematic music…anything that requires something EPIC!

Buy each product individually at a huge discount or grab them all for mega savings.

10% of your purchase goes directly to charity!
This is the perfect time to grab up these products if you don't already have them. I purchased most of these at a price not even close to this low price. This bundle is an absolute steal!
Tags: aria sounds, audio bundle deals, epic soundlab, impact soundworks sale, kontakt instruments, sample library bundle, sampletraxx deal, sound design, soundiron apocalypse elements, trailer scoring, vst deals, vsts
Monday, April 2, 2018
A Complete Bundle for Cinematic Sound Design

3,400+ Sound Sources @ 96k 24bit Resolution
16.72 GB of Samples (uncompressed)
Epic movie Trailer contains 360+ audio files available in both .WAV 96k 24 bit resolution and 44.1k 16 bit
Game and Film Trailer Sound Effects Library
Perfect for Action, Tension, Suspense, and Movies
Powered by KONTAKT 5 ver 5.6.8 or later
Includes KONTAKT 5 Player – Nothing Else to Buy
Native Instruments NKS Ready with KOMPLETE KONTROL & MASCHINE
Tuesday, March 20, 2018
Welcome to your new favorite drum library – With "RealiDrums", you'll be working faster, you'll be getting the best sounds available, and most importantly, you'll be having more fun doing it!
With 117 different drums and cymbals, plus sidesticks and percussion elements, a revolutionary Groove Generator and a fast and intuitive workflow this is the biggest and best drum collection you can buy!
This Is Not A "Normal" Drum Library… Here's Why:
RealiDrums is
not
like other drum libraries. Check out the video to see why, but some if the great features include:
The BIGGEST drum collection you can buy – 42 different Snares, 7 different Kicks, 11 Hi Hats, 24 Rides, 33 Crash Cymbals, plus Sidesticks and percussion elements. These aren't just different mixes – these are different drums!
The fastest workflow – This means you can find the sound you need *fast*. No tweaking and tweaking, trying to massage the wrong drum into what you wish it sounded like. With RealiDrums, simply try another drum. And then another. All quickly, with no wait for load times.
The most fun groove generator – select a beat and modify it easily
Best of all… this library
runs in the Free Kontakt Player
, which you can download
HERE
so no additional software is needed!
Find Instant Inspiration in the Built-in Groove Generator!
THE MOST FUN GROOVE GENERATOR
The Groove Generator in "RealiDrums" works completely differently to most other drum plugins. First you select a beat in a given style (from) , then you can begin to modify it to sound busier or simpler by simply moving the "Complexity Sliders".
These Complexity Sliders are independent, so you can make the hi hat busier, but make the kick simpler and maybe add sparse (or busy) toms to the rhythm, too. There is also have a master slider if you want to adjust all the elements at one.
Now let's suppose you want hi hat instead of ride. That's easy. Just turn off the hi hat button and click the ride button. Or maybe you'd like toms to get involved in the rhythm. Just select it, the move the Complexity Slider until it's playing what you want.
Want a crash cymbal on the downbeat? Turn on the crash button and move the Complexity Slider to the left (for the most basic crash pattern.) Or if you want your drummer to bang those crashes, turn up the slider until it's just right.
The theory behind the Groove Generator was to make it feel as close to working with a real drummer as possible.
For instance, if a drummer was with you right now, you might say, "Give me a surfer beat for this song." He'll play a surfer beat, then you might say, "No, that's too busy. Can you make it simpler?" Or you might say, "That sounds cool, but I was hoping for the rhythm part to be on toms, instead of hi hat."
That's exactly how ther Groove Generator works. It's interactive, and you're actually *creating* music, instead of "assembling" a track by searching through countless MIDI loops.
Prefer working in midi tracks? Use the Groove Generator as a starting point. Drag and drop any of the midi grooves into your host DAW tracks then edit to your heart's content. Any way you like to work, this will get your track up and moving in no time at all!
BUT WHAT ABOUT FILLS?
Of course! You'll find the fills on keyswitches, so you can play them anywhere in the beat, and they will automatically play in sync and adjust in length so they make musical sense. We guarantee you're going to find yourself playing around with a beat and adding fills, just because it's so fun!
Normally €250 – get it at 70% off before its gone!
70% off the normal price (normally €250)!
The biggest (and best sounding) drum collection you can buy!
42 different Snares
7 different Kicks
11 Hi Hats, 24 Rides
33 Crash Cymbals
Sidesticks and percussion elements
Revolutionary Groove Generator with Complexity Sliders – just like working with a real drummer!
Comprehensive Mixer including Pan & High/Mid/Low EQ
Effects Sends for Reverb & Compression
Four mic mixes including Close Rock, Room & Beast!
PC/Mac compatible. Runs in all sequencers.
VST, AU, AAX, RTAS
Note: This library runs in the Free Kontakt Player, which you can download HERE
Perfect for all sorts of genres including Rock, Punk, Funk, Pop and much more!
Tuesday, March 13, 2018


"ECLIPSE" is designed for easily creating dark and brooding, evolving soundscapes and atmospheric textures.
With a critically-acclaimed intuitive interface, you can create rich, deep atmospherics in motion that are perfect for Trailer Music, Cinematic Underscore, Ambient Music and anything that requires a dark, pulsing, cinematic sound!
Create Dark, Brooding and Infinitely Evolving Soundscapes
ECLIPSE is a unique sound engine for creating rich and complex dark sounds.
Dark drones & textures
Aggressive, stuttered rhythms
Ominous pulses
Constantly evolving pads
Pulsing synths
Tempo-sync'd atmospheres.
The Orbital Synthesis engine morphs between four creative sound sources to create amazing tonal pulses, edgy hybrid rhythms, and dreamy atmospheric beds, all evolving infinitely over time.
With over 62 million starting points, it's virtually impossible to come up with the same sound as someone else. Yet with so much control, creating amazing sounds is eons faster than with any other synth.
Note: This library is compatible with the free Kontakt Player (VST/AU/AAX ) 5.5.1 or above! Download it HERE
Begin by Combining 4 Unique Sound Sources
To begin creating your sound, simply choose your 4 sound sources to combine. The 101 different sound sources are divided into three categories:
Simple – drones & shifting textures
Complex – dark & disturbing desolation, deprivation & post apocalyptic doom and gloom
Asylum – the extremes of derangement, torture and aggression
Not sure where to start? Use one of the 250 presets! Get started with a preset, then tweak it to make it your own or use the randomize option
Send Through the Triple Design Engine to Pulse, Chop & Flow
Once you've selected your 4 layered sounds, you can choose how these sounds go through the next step of the chain through three distinct rhythmic engines:
PULSE MODE – Create modern percussive elements
CHOP MODE – Craft an electronic or stuttered style
FLOW MODE – Produce one-of-a-kind pads and textures
You can even morph between modes seamlessly and in-time, using the built in sequencer.
SOUND-SHAPING NIRVANA
Effects
The effects page effortlessly sculpts your sound with delays, multiple modulations, diverse distortions.
It also includes a special convolution engine that includes both practical creative impulses and beautiful reverbs from world-class hardware units commonly used in cinematic production.
Sequencers
ECLIPSE
has 4 independent sequencers that modulate 24 useful parameters to further the creation of interesting, musical, and evolving sounds. Each sequencer has its own playback rate and extends up to 64 steps.
Automatically generate new patterns, or process what's already there in dozens of innovative ways. Then play it forward, reverse, both, or even random. Beautiful sequences are only a click away.
Native Hardware Integration
NKS enables intuitive, seamless interaction between plug-in instruments and KOMPLETE KONTROL S-Series keyboards and MASCHINE hardware.
Note:
This library is compatible with the free Kontakt Player 5.5.1 or above! Download it
HERE
Normally €122 – get it at 60% before its gone!
60% off the normal price (normally €122)!
Fun, intuitive UI that will have you designing immediately
101 Sound Sources
294 Million Sound Permutations
3 Distinct Rhythmic Engines – Pulse, Chop & Flow
4 Powerful Modulation Sequencers: pencil tool not required
Full FX Rack with fine-tuned Convolve Engine
Full Orbital Synthesis Engine
Add Power, Drama & Edge To Your Tracks
250 Track Starting Presets
Requires Kontakt or Kontakt Player 5.5.1, PC or Mac
In it's compressed state, ECLIPSE is 600MB.
Perfect for Epic Trailer Music, Sound Design, Underscore and Ambient Music!
Tuesday, January 23, 2018
"Broadway Gig" – Created specifically for keyboardists playing live shows, this most affordable product in the Broadway series is a powerhouse!
With 8.6 GB of audio content and 12,952 unique samples, whether you play Funk, Rock, Pop, Blues, R&B, Latin, Hip-Hop, Jazz or Reggae, this virtual instrument is perfect for keyboardists playing live shows of any scale!
8.6GB of Brass & Wind Instruments for Kontakt Player!
"Broadway Gig"
is redefining what a keyboardist can do on the stage, and on a budget. It includes the segments which are most useful for playing live shows, taken straight out of Fable Sounds' critically acclaimed flagship product – Broadway Big Band
This library features 4 wind instruments that have been deeply sampled and lovingly scripted for the ultimate in live playability:
Trumpet
Trombone
Tenor Saxophone
Baritone Saxophone
You can use any of the Broadway Gig instruments multiple times in the arrangement or in a multi, creating a realistic section of multiple instruments. Each of the 4 instruments can simulate up to 5 instances of itself even when playing in unison, without sacrificing realism.
All the instruments come with the microphone setups most optimized for fitting perfectly in the PA mix, creating the sonic illusion that there is a live horn section on stage!
Testimonials from Players Using It In the Real World, On Stage!
"
I used Broadway Big Band in live shows with Paul McCartney, Bobby Kimble, Paul Simon, Danny Seraphine…" "It helps when you have a great library like Broadway Big Band. That makes my life much easier
" –
Robert Luna
(keyboard player)
"
Fantastic, these samples will really help your productions come alive
" –
Tony Newton
(World famous motown bass player)
"
I'm not sure what voodoo / black magic they did to get it to sound like that, but it is unreal how real it actually sounds
" –
Assaf Rinde
(Composer for film, TV, video games etc.)
"
Sound fat"; "very responsive"; "Its a great product. I recommend Broadway Gig for everyone
" –
Joey Melotti
(Singer Songwriter and keyboardist for Barry Manilow)
"
This is the most amazing tool I've ever come across for being able to do brass arrangements
." "
Its just amazing how realistic and clean the Broadway library sounds, and its definitely changed the way I work
" –
Rob Arbittier
(Composer & Music Producer – former programmer for Stevie Wonder)
Normally €165 – get it at 60% off before its gone!
Absolute no-brainer at 60% off the normal price (normally €165)!
8.6 GB of multi-sample audio content at 24 bit / 44.1 Khz – 12,952 unique samples.
Real note-transition samples, including legato, glissando, etc.
Real-time access to all of the articulations of each instrument.
Clever key-switch programming enables super-fast, easy and intuitive articulation switching in real-time.
MIDI data morphing for mod-wheel driven crescendos and diminuendos.
Velocity Curve control, and Velocity Shift slider.
Unison Section – enables stacking multiple instances of the same instrument, creating a realistic section even when playing in unison.
Real-Time Orchestrator – a revolutionary powerful feature which enables a keyboard player to play an entire mixed section of instruments with polyphonic polyrhythmic legato.
Includes a set of powerful instruments multis for easy section playing (both regular stacked multis and RTO multis).
Revolutionary and patented alternate samples handling (round-robin).
Create and recall snapshots of alternate cycles to lock performance and gain ultimate control.
Top New York musicians and recording studios.
Mac OS X 10.10, 10.11 or 10.12 (latest update) or newer (64-bit only) – Intel Core 2 Duo (minimum)
Windows 7, Windows 8, or Windows 10 (latest Service Pack, 32/64-bit) – Intel Core 2 Duo or AMD AthlonTM 64 X2 (minimum)
4 GB RAM (minimum)
88 Keys MIDI keyboard (recommended)
9 GB of disk space (18 GB of space required during installation)
Supports: Stand-alone, VST, AU, AAX
An internet connection is required for activation.
Once activated, it can be used offline.
Note: Broadway Gig is compatible with the free Kontakt Player which you can download HERE
Ideal for Live gigging in a variety of styles including Funk, Rock, Pop, Blues, R&B, Latin, Hip-Hop, Jazz or Reggae!
Tags: audio plugin deals, broadway gig fabled sounds, funk music samples, hip hop, jazz, keyboard big band, kontakt instruments, kontakt sample library, latin sounds, plugin deals, reggae, vst buzz deals, vst deals
Thursday, August 24, 2017
The realsamples legacy bundle features 16 "vintage" sample libraries in one package – for a limited time only. They come with presets for the Native Instruments Kontakt sampler (version 4 or higher, full version required).
This massive deal is available only until September 6th. Don't miss out!
Value: $1120
You Save: $1021
The realsamples Overdriven Guitar Collection features single notes of a Gibson™ SG® guitar recorded in its classic overdriven sound. Just right for that guitar solo you'd like to play on your keyboard.

$69.95 Value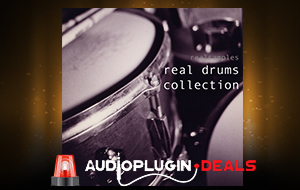 The realsamples Real Drums Collection sample library features a Pearl™ drum kit with two snare drums (wood & brass), ride, crash & splash cymbals. The drums were sampled with up to 110 velocity layers.

$69.95 Value
The realsamples Slap Bass Collection brings funky slap single notes of a Warwick™ Streamer® electric bass to your sampler. Chromatically sampled, every note is avail-able in 32 velocity layers for great dynamic range.

$69.95 Value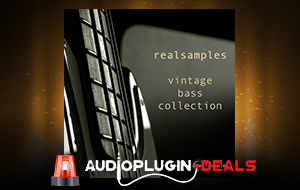 The realsamples Vintage Bass Collection brings the classic Fender™ Jazz Bass® into the sampling world: The vibrant sound that can be found on many timeless records as well as contemporary recordings.

$69.95 Value
key Features
30GB+ download size
Requires Kontakt retail version 4 or higher
Essential playing techniques, captured with lots of samples for an extensive human touch
Recorded with selected signal chains
Instruments played carefully and musically to fit into other arrangements

Tags: audio plugin deals, composer tools, film composing, game audio, guitar samples, kontakt 5 instruments, kontakt instruments, realsamples, sample library, virtual instruments, vst buzz, vst deal, vst vsts
Thursday, June 29, 2017
For just $99, get this massive bundle of high-quality libraries and tools from EPIC Soundlab. These libraries and tools are powerful, intuitive and a must-have for any serious Film, TV and Game composer. Don't miss out on this opportunity to unleash your creativity and take your next projects to the next level by adding these to your arsenal. This deal is available only until July 12th, hurry and save!
key Features
10GB+ of content as editable open WAV samples

300+ Kontakt Instruments in 4 amazing Kontakt Sample Libraries

2 Reaktor Instruments

Innovative & Intuitive Sequencing

Advanced Themed Drum Sequencing with Mix Recall

Cross & Spectral Morphing Flexibility

MIDI CC Morphing

Hundreds of MIDI files

Easily customize your own samples


Tags: audio plugin deals, audio plugins, cinematic, drum sequencing, electronic musician, epic soundlab, film composing, game composing, kontakt instruments, reaktor, sample library, sound design tools, vst
Thursday, May 4, 2017
AudioThing Massive Bundle Deal:
39 Products for $99!
AudioThing offers a massive bundle of 30 Kontakt Instruments, 4 VST Instruments and 5 Audio Effects ($604 total value) for only $99. AudioThing develops professional yet affordable audio plugins (VST, AU, AAX) for every kind of composer, producer and sound designer. This deal expires on May 17th. Don't miss out!
KEY FEATURES
30 Products for Kontakt (3.5, 4.2.4 and 5.5.1).
Formats: VST, AU, and AAX (32/64bit)
Total size approx. 6.0 GB
Platforms: OSX, Windows
Preset system with randomizer
Kontakt Bundle requires full retail version of Kontakt

Tags: audio plugins deal, Audio Thing Bundle Deal, composer, electronic musician, game audio, kontakt instruments, music production, plugin deals, sample library, sound design, virtual instruments, vst, vst deal, vsts