Weighing in at just under 10GB, this collection features ambient loops, rhythmic beds, percussive and FX loops, impacts, hits, whooshes, transitions, melodic pads, and more of sugar-coated samples to sweeten any track you're working on.
The loops are all categorized according to tempo, ranging from 60-120 BPM, and feature both melodic and tonal content as well as percussive and atonal effects loops
This is a great collection for composers and producers in need of great, ready-to-use samples and loops, and will allow you to bang out great tracks in no time at all. Just drag and drop and use them to either enhance your current tracks, or as a foundation for creating a new hit.
Originally $249, this collection is now available for just $49 for a limited time only! This is an amazing offer you should not miss!
Important: All or some samples in this product have already been released in Ueberschall products.
High Quality Music Made Easy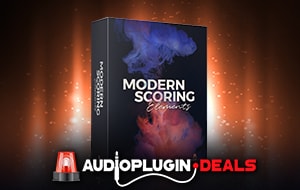 Modern Scoring Elements 1 is the perfect SFX tool box for creating or enhancing suspense in any scene or movie. Intensify the mood with the help of these dynamic effects and accents. Thrilling risers, whooshes and powerful impacts paired with soothing beds will have your audience on the edge of their seats.


Modern Scoring Elements 2 offers a vast variety of SFX samples for creating tension or coloring a scene through anything from heavy impacts and whooshes to soft and subtle soundscape transitions. Energetic percussion and driven arpeggios will enhance your action and add the finishing touches to a full cinematic experience.
Modern Scoring Elements 3
features a lush assortment of atmospheric layers and enchanting melodies. Combine these elements to create fluid transitions between scenes and emotions. The mixture of organic and synthetic sounds takes you on a journey through different worlds and presents you with the musical building blocks for your next sci-fi adventure.